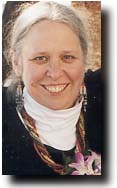 Laura V. Blanchard
2041 Christian Street * Philadelphia PA 19146
(215) 985-1445 voice * (215) 985-1446 fax
lblanchard@rblanchard.com
Featured link: Laura's Flickr photo page. (Upwards of 20,000 images -- a sure sign of a misspent life!)
Laura Blanchard maintains the Blanchard Company website and provides editorial support to the Week in Review. She also maintains her own client base, for whom she provides contracted management services and special project support. Current clients include:
Past clients include:
With her colleague, Adam Corson-Finnerty, she is co-author of Fundraising and Friendraising on the Web, published by American Library Editions in 1998.
Volunteer activities have included: