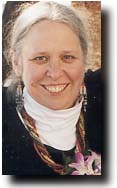 Laura V. Blanchard
2041 Christian Street * Philadelphia PA 19146
(215) 985-1445 voice * (215) 985-1446 fax
lblanchard@rblanchard.com
Laura Blanchard maintains the Blanchard Company website. She is also the Executive Director of The Philadelphia Area Consortium of Special Collections Libraries, a position she has held since 1995, and is a freelance web designer. Current and former clients include:

With her colleague, Adam Corson-Finnerty, she is co-author of Fundraising and Friendraising on the Web, published by American Library Editions in 1998 and updated on the web. She teaches an introduction to fundraising on the internet for the College of General Studies, University of Pennsylvania and for other organizations. For information on these activities, see
Volunteer activities include:
Looking for something of Laura's? You may be able to find it by using Google to search one or more of these sites:
Week in Review | Resources | Search | Roy Blanchard | Laura Blanchard | Home
THE BLANCHARD COMPANY
2041 Christian Street - Philadelphia PA 19146-1338 (215) 985-1110 voice - (215) 985-1446 fax
Roy Blanchard, rblanchard@rblanchard.com
Laura Blanchard, lblanchard@rblanchard.com
Site contents copyright 1995-2001 The Blanchard Company except as indicated herein. All rights reserved.